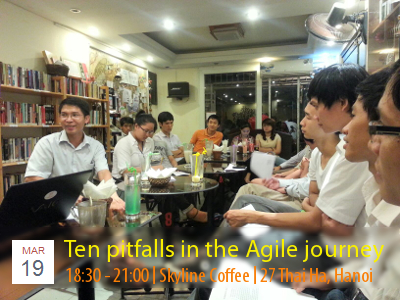 Time: 18:30 - 21:00, 19-Mar-2014
Location: Skyline Coffee, 27 - Thai Ha, Hanoi
Register: HanoiScrum Exchange
Agile is fast becoming one of the most widely adopted methodologies for software delivery. We have seen many organisations go through these journeys and change over the past few years. Some we have been a part of and some not. Some of our observations has been that as with any other change initiative, Agile Transformat
ion goes into a lull after the initial euphoria has worn out. What are some of the pitfall of this journey and how can one look at avoiding them is what this talk focuses on.
Presenter: Gabriel Gavasso
Project Manager & Business Analyst - ThoughtWorks
Gavasso has 9+ years of experience in successfully facilitating the communication between business stakeholders and software development teams. He is now based in Singapore and is responsible for expanding ThoughtWorks across South East Asia. He was part of successful teams delivering software in Brazil, Singapore and the USA, and can be found jogging, long-board skating or barbequing in his spare time.
---
Please, donate some money to cover the the fee of location and your drink when you arrive to the event.